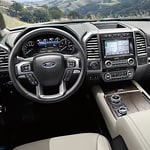 The best part about Ford Expedition is that it has too many outstanding features to discuss in a short blog post. Large, powerful, efficient, high-tech and safe, Expedition understandably outshines its competition in the full-size SUV category. Our Mills Motor Inc. team loves Expedition from top to bottom, but its plethora of capability features make us really excited.
The Perfect Drive Mode
Expedition lets you focus exclusively on navigation thanks to its Terrain Management System. The system automatically optimizes drivetrain, gears, speed and power output depending on drive modes you select: snow, sand, normal, towing, etc. You have the added perk of manually switching to 2WD or 4WD in a given drive mode depending on the terrain and your preferences.
360-Degree Camera
Recently added to Expedition, the 360-degree camera is actually a series of cameras mounted in the front grille, back bumper and sideview mirrors. The cameras permit front, side, rear and bird's eye views. You also have the choice of 180-degree or 360-degree to monitor anything happening on any side of the Expedition.
See Expedition's 360-degree camera feed in person during a test drive at our Baxter dealership today.